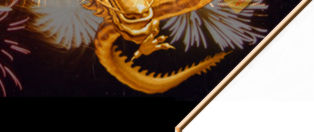 Terrestrial Pai Gow Poker V Online Pai Gow Poker...which is better?
If you're in the fortunate position where you live close to a casino, then you'll find yourself pondering this question. If you live nowhere near a casino, then the debate's academic...you're only option is to play Pai Gow poker online. Regardless, it's interesting to toss around the virtues and pitfalls of both playing environments.
Online Pai Gow...
I think the pros here far outweigh the cons. They include:
convenience: feel like playing and you're logged on and away in minutes particularly if you're playing at a mobile phone casino ;

privacy: this is especially important if you're learning the ropes. In this situation you want time to think about your options without a table full of players breathing down your neck impatiently;

time: another factor that is important to new players. You have time to think about your play options and therefore are more likely to make the right decisions and optimise your returns;

information: you can play with all information that you need at your fingertips. For example, while logged on and playing at an online casino, have a printed copy of our Pai Gow poker strategy matrix by your side so that you can be sure you are making the optimal play each hand;

range: don't like the rules/graphics/customer support/etc of a particular casino? Ditch them and find one you do like...they are all at yoru fingertips;

comfort: no annoying smoke wafting across your face, no 275 pound giant squeezing you off your seat at the table. Just the comforts and conveniences of your own house.
Of course there are cons to playing online. They include:
rules: as discussed at our Pai Gow strategy and Pai Gow casinos pages, most online casinos only let you play as the 'player'. This does limit your ability to optimise your returns. There are however online casinos that do let you play as the banker, so this is a con that we can get around. Online casinos that let you play as the bank are listed here;

piece of mind: if you are new to playing online, it can be a bit of a leap of faith signing up with a casino for the first time. Make no mistake about it, there are rogue operators out there. But there are also reputable operators who have active player bases numbering in the hundreds of thousands, and who have been operating without incident for over 5 years;

atmosphere: as good as online casino software is, it will never truly replicate that real casino atmosphere. Just one of the drawbacks that you'll have to come to terms with;

deposits/withdrawals: depositing online with VISA and Mastercard is becoming more and more difficult, particularly for US players. While there are a myriad of other deposit options that allow you to open an account, they are not always as easy. As for withdrawals, I don't care what anyone says, having to wait a couple of days for a check will never be as good as walking away from the table with a pile of chips on your hand!
Just some food for though :^)